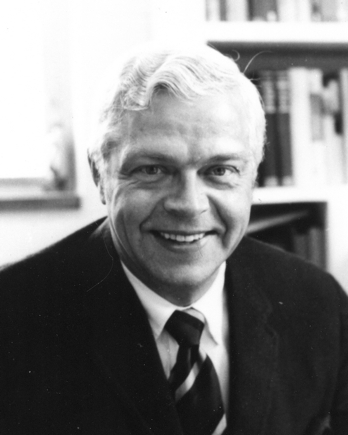 Dr. John Cornelius Houbolt of Scarborough, ME passed away peacefully on April 15, 2014, shortly after celebrating his 95th birthday, after a long, courageous struggle with Parkinson's disease. Dr. Houbolt was best known for his work at NASA — promoting the concept of Lunar Orbit Rendezvous, a pivotal component of the Apollo Moon landings.
Dr. Houbolt was born April 10, 1919 in Altoona, Iowa to John and Hendrika Houbolt who had emigrated to America from Holland. He grew up in Joliet, Illinois, attended Joliet Township High School, and Joliet Junior College where he won a scholarship to attend the University of Illinois. He earned BS and MS degrees in Civil Engineering from the University of Illinois at Urbana–Champaign (UCIC) in 1940 and 1942. He received the Rockefeller Public Service Award to undertake graduate study at Swiss Federal Institute of Technology, Zurich (ETH) and earned his PhD there in 1957.
Dr. Houbolt began his career as an engineer in the Structures Research Division at the National Advisory Committee for Aeronautics (NACA) at Langley Research Center in Hampton, Virginia in 1942. He served in the Army Corps of Engineers from 1944 to 1946. Later, as NACA became the National Aeronautics and Space Administration (NASA), he was made Associate Chief of the Dynamic Loads Division, and then Chief of the Theoretical Mechanics Division. In 1963, he left NASA to become Senior Vice President and Senior Consultant at Aeronautical Research Associates of Princeton. In 1976, he returned to NASA as Chief Aeronautical Scientist. After retiring in 1985, he served in the role of private consultant.
Throughout the 1945-1963 time period, he taught a variety of courses in Mathematics and in Aeronautics and Space Flight disciplines at the University of Virginia and VPI Graduate Extension Divisions. In 1949, he was an Exchange Scientist at the Royal Aircraft Establishment in Farnborough, England. At the end of his stay, his fiancée, Mary Morris of Winston-Salem, NC, joined him at Farnborough where they were wed in the Methodist Church.
Among his many achievements, Dr. Houbolt was an avid mathematician, and in researching and teaching himself orbital mechanics, he realized that the concept of Lunar Orbit Rendezvous (LOR) had far-reaching ramifications in space travel. He deemed this idea so important that he risked his career promoting the concept of LOR. He demonstrated the weight and cost savings that would permit using existing technology to fulfill President Kennedy's challenge to land on the Moon before the end of the decade. Although he was mathematically sure the LOR plan was the best, bureaucracy, politics, and fear hindered his proposal.
"Somewhat as a voice in the wilderness…", Dr. Houbolt took on the bureaucracy, and after significant controversy, including Congressional hearings, the LOR plan was eventually adopted. His "Dutch flexibility" (stubbornness) and persistence resulted in the critical decision that ultimately ensured the success of the Apollo Moon program.
Dr. Houbolt was awarded the NASA Exceptional Scientific Achievement Medal for his work on LOR in 1963. He was the first recipient of the American Institute of Aeronautics and Astronautics (AIAA) Structures, Structural Dynamics, & Materials Award in 1968, and in 1972 he was awarded the AIAA Dryden Research Award. He was elected to the National Academy of Engineering in 1990. He was awarded the American Society of Mechanical Engineers Spirit of St. Louis Medal in 2000. He was awarded honorary doctorates by ETH Zurich in 1975; by Clarkson University in 1990; and by UIUC in 2005. In 2007, UIUC awarded him the Illini Achievement Award, their highest honor. His contributions to the space program are on permanent display at the Joliet Area Historical Museum and his papers are held at University of Illinois Archives, where they are considered an important modern historical collection.
Dr. Houbolt served on many aeronautics and space flight committees including accident investigation, the NASA Space Shuttle, and in numerous capacities for the AIAA where he was an Honorary Fellow. He served the NATO Advisory Group for Aerospace Research and Development for more than 20 years. He was consultant over the years to the Air Force, Navy, and Army and various commercial firms. He was a member of the Scientific Advisory Board of the Air Force for 20 years. He also served on a number of highly classified projects, such as the B2 Stealth Bomber.
In his youth, Dr. Houbolt built model airplanes and competed in flight contests, forming a lifelong love of aeronautics. A trap and skeet shooter, he was a member of the Nassau Gun Club, Princeton, NJ and the Black Rock Gun Club, Plainsboro, NJ. An avid sailor, one of his favorite pastimes was spending time on his sailboat with his wife Mary — an equally enthusiastic sailor — and family and friends. He was also a pilot, skier, and inveterate handyman. He truly enjoyed repairing things for his friends and neighbors — carpentry, electronics, or mechanical — if parts were discontnued, he made them.
A scientist to the end, Dr. Houbolt arranged with his family to donate his brain to Massachusetts General Hospital for research into Parkinson's Disease.
John will be missed forever by Mary, his wife of 65 years, daughters Neil, Joanna, and Julie and their respective spouses Tucker Withington, Matt Hayes, and Carl Winter. "Pop-pop" will be missed by his grandchildren Lia Withington, Whitney Withington, Ryan Winter, and Carla Winter. Dr. Houbolt was preceded in death by his parents and two siblings Mary Klott Jones and Neal Houbolt. He is survived by his sister Irene Coonan of Grapevine, TX and numerous nieces and nephews.
The family sends their sincere appreciation to the staff of Holbrook, Piper Shores, Scarborough, ME, and especially to Michael Roy, CNA, new friend and dedicated caregiver, for his loving and devoted care of John.
In lieu of flowers, the family requests that contributions in John's memory be made to Joliet Junior College Foundation, Resource Development, 1215 Houbolt Road, Joliet, IL 60431.
A private family service is planned at a later date.